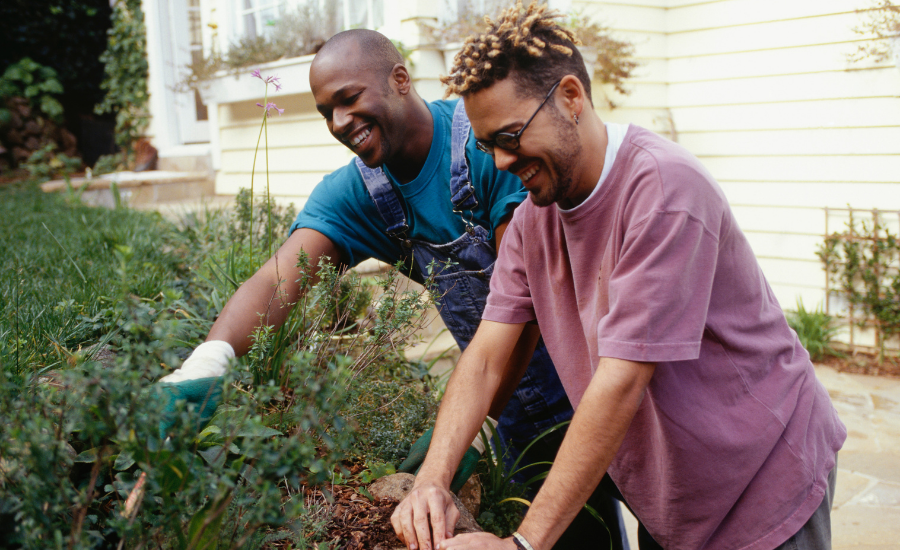 Chemical-free ways to start growing gorgeous gardens and lush lawns this spring
The birds are chirping, the flower buds are about to bloom. And dare we say it here in the Pacific Northwest? The sun may even come out soon. Spring is just about here! And for many of us, early spring is a time to start fresh and get ahead of our garden and yard plans for the year.
No matter where you are in your yard or garden planning process, dig into some natural and chemical-free yard care tips around springtime gardening woes below. They'll help you keep your garden and yard care practices thriving and reduce your exposure to toxic chemicals. Plus, they'll save you money and time, too.
Keeping these tips in mind, you can breathe easier knowing you, your yard, your neighborhood, and King County's waterways and ecosystems will be safer and healthier. And is there any greater reward than beautiful blooms to enjoy, cleaner water to drink, and abundant wildlife to watch all around you?
Start with soil.
Soil health matters, so start with what's under your feet. Healthy soil means healthy plants and nutritious food. It also holds more water and carbon, suppresses plant diseases, and can even filter and break down pollutants.
Upgrade your soil with compost. Use compost to build healthy soil that will help your plants, grass, or edible gardens thrive.
Use organic fertilizer. Organic fertilizers release slowly into soil, helping plants throughout the growing season. They are a safer option than quick-release chemical fertilizers, which often get wasted and cause damage when they wash into streams and lakes.
Mulch regularly. Spreading a couple inches of wood chip mulch over the top of the soil like a blanket conserves water, regulates soil temperature, prevents weeds, and feeds the soil for healthier plants.
Weed without chemicals.
Spring is a great time to pull weeds, especially right as they start growing, when the soil is moist, and before they go to seed. Consider using your hands and keeping these tips in mind.
Avoid chemical herbicides in your garden and yard. Chemical herbicides can cause harm to you, your pets, and your neighborhood's wildlife and waterways.
Weed by hand. Hand pulling weeds is free and prevents exposure to harmful chemical products. Tools like long-handled weed pullers and hoe-style weeders may also help.
Remove the whole weed, not just what's visible. It's easiest to remove weeds by hand right when they start growing before they've started to seed. Try to pull out the entire root system.
Believe in bugs and insects.
Not all bugs are a bother. In fact, a number of insect and bug species naturally help control other harmful pests like aphids around the garden. It's safest to accept a little bit of damage and let nature work on its own, but if you have a serious pest problem, here's what we suggest.
Avoid chemical pesticides. Many chemical pesticides can cause serious harm to people, pets, wildlife, and water quality.
Use organic pesticides only if necessary. Even organic pesticides can harm beneficial insects like pollinators. Identify safer alternatives with programs like Grow Smart, Grow Safe. Use organic pesticides only if necessary and safely dispose of unused pesticides at a hazardous waste drop-off site.
Remove pests by hand or with traps. Handpicking and trapping pests can be very effective, especially against larger bugs and pests. Sticky paper traps help with flying pests, while beer traps are useful at preventing slugs.
Contact the Garden Hotline. A professional garden educator can give you custom tips on how to manage your specific problem at GardenHotline.org
Love your lawn by leaving it (mostly) alone.
It may go against the thought that a "well-kept" lawn takes a lot of work, but there are ways you can keep up the greenest of spaces with little to no cost.
Try out "grasscycling." Start mowing about 2 inches high and leave the clippings behind as a no-cost, chemical-free fertilizer. This is called "grasscycling" and does not cause fungal diseases.
Revive lawns with compost. For lawns in poor condition, aerate, overseed, and rake in ½ inch of compost to build healthy soil for a lush lawn.
When in doubt, ask the Garden Hotline.
The Garden Hotline is a free, year-round program offered by Seattle Public Utilities, Cascade Water Alliance, and the Haz Waste Program. The program is staffed by experts available to answer your garden and yard questions over the phone or email. The staff also educates the community about natural yard care with ongoing classes, webinars, and online Q&A sessions.
Questions about your garden? You can call the Garden Hotline to talk to one of our experts from Monday-Saturday, 9 a.m. – 5 p.m. at 206-633-0224 or visit the Garden Hotline website to learn more and find a Q&A session to attend.
As you break out your garden tools, we encourage you to focus on practices that protect you from exposure to hazardous materials. By setting yourself up for another season of success in the garden without chemicals, your health, your neighborhood, and our region's environment will be able to thrive in the long run.
Stay tuned throughout the rest of the growing season for more natural yard care tips to help you stay safe from toxic exposures while out in your yard.