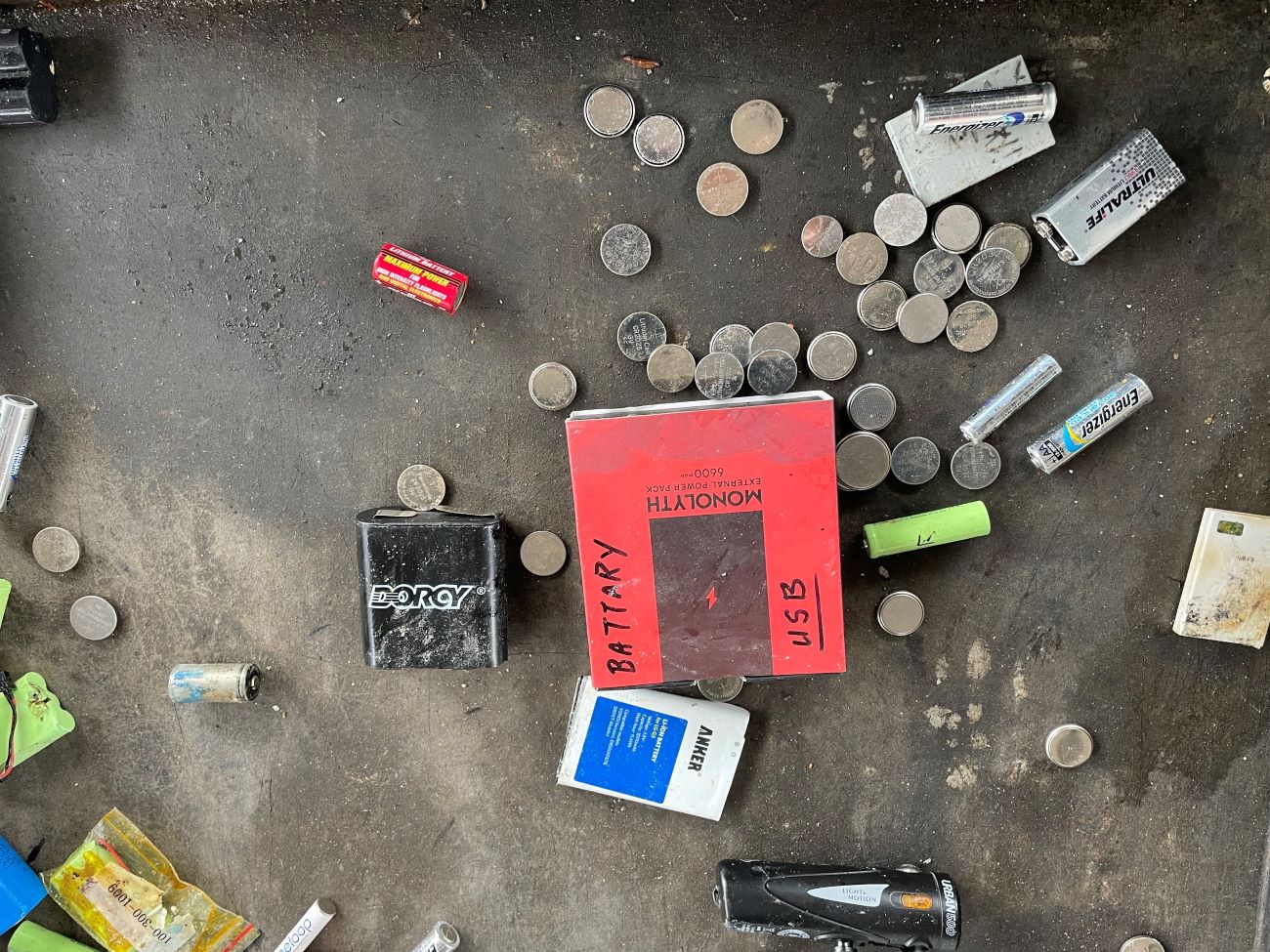 What you may have missed at the Washington Recycles Every Day event
When you look at one single battery, it may not look like much. But, here at the Haz Waste Program, we know batteries can cause a range of problems for waste management facilities. But, there are potential solutions on the horizon, and the Program is regularly participating in conversations about ways to reduce the hazardous impact of improperly disposed batteries on our region's environment.
At October's Washington Recycles Every Day (WRED) event - hosted by the Washington State Recycling Association – a group of technical experts in the battery recycling world came together to talk about all things battery recycling and disposal. Senator Derek Stanford was also in attendance to support battery stewardship, and he welcomes public input on the topic of battery product stewardship.
Missed the event and want to learn more? Visit WSRA's website to access a recording of the event and see future events.
We encourage to listen in if you are curious, but below are some highlights of the conversation.
Recap of October's Washington Recycles Every Day event
Tristen Pamphlet-Gardner, Planning & Policy Advisor for the Haz Waste Program, set the tone for the day, providing an overview of the problems batteries can present for many municipal waste facilities and programs. He also covered:
The low rates of battery recycling and high volumes of batteries ending up in municipal waste streams and landfills
The potential costs to municipal programs for management of battery collection and disposal
Fires at waste management facilities and their impacts
Environmental impacts of batteries in landfills
Rick Gilbert, from Kitsap County Solid Waste Division, shared Kitsap County's perspective on the operational challenges of collecting and handling batteries. Some takeaways include:
The rise in lithium-based batteries in waste streams and what that means for safety throughout the collection process
Labor costs and employee safety around battery collection storage, sorting, transportation
Government costs for creating battery collection infrastructure
Carl E. Smith, former head of the battery recycling organization Call2Recycle and now affiliated with the Global Electronics Council, provided a detailed overview of battery types, chemistries, and recycling technologies available. Highlights include:
Common types of batteries addressed in emerging battery product stewardship legislation
Lithium-ion batteries, their many different sub-chemistries, and the need for different recycling processes according to batteries' sub-chemistries
Which recycling technologies are used to process batteries today, how efficient they are at breaking down battery materials
Current statewide and federal efforts to create battery product stewardship programs
Considerations for collections programs around battery product stewardship programs and legislation
Ian Flint, Lab 4, Inc. and Graphite One, shared an in-depth look at a collaborative lithium-ion battery recycling program looks like. He explored:
What the technical recycling process for lithium-ion batteries looks like
Partnerships and collaboration around the technical recycling process for lithium-ion batteries
George Kerchner of the Rechargeable Battery Association, took the group on a technical tour of regulations around batteries throughout the recycling process. Some topics he covered include:
Challenges and best practices for transportation and fire code regulations
Regulations related to battery collection, storage, and transportation
Shane Thompson, Cirba Solutions, provided insight from the world of lithium-ion and electric vehicle battery operation, including:
The importance and need to recycle batteries
The connection between battery recycling and supporting supply chain
Material recovery and outcomes of battery recycling
Areas of growth and potential exploration in battery recycling as technology evolves
Where to go from here?
Still confused about batteries? You can always find guidance on how to safely dispose your batteries and keep them out of landfills by visiting the Haz Waste Program's guidance on battery disposal. If you have specific questions, our Haz Waste Help Line is also available Monday-Friday at 206-296-4692.

When you break down batteries, they can be pretty complicated. But safe battery disposal doesn't have to be. As battery product stewardship and recycling programs are established across the country, more information and more accessible, convenient options for safely disposing batteries will emerge.